Special Instruments
String Monitoring
String Control
ams StringControl was designed to control the function of small and midsize photovoltaic systems.
The integrated analogue meters continuously measure the current flow of all single strings including the connected modules.
ams StringControl is suitable for the integration in new installed phohtovoltaic systems as well as for the retroactive installation.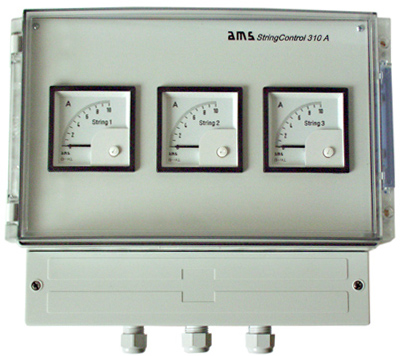 Contamination, corrosion, marten bite, loose cabling or similar often can cause a reduced power generation, which remain unnoticed.
The monitoring of the strings via ams StringControl is thereby fully uncomplicated. By having a uniformly exposure to sunlight of the modules and fully functional strings the analogue meters indicate an identical current flow via the displayed current value. In case the functionality of one of the strings should be limited, because e.g. one single module or just a single solar cell is damaged, the corresponding analogue meter which is monitoring this string will indicate a lower current value as due to a failure the complete string can't generate best possible power output anymore.
In this case an electrically qualified person has to check modules and strings and to fix the damage that the system again can work efficient and properly.
With ams StringControl you're in the position to monitor the functionality of your photovoltaic system immediatelly and easily at a glance and can react very quickly in case of a reduced power generation.
Types:
ams StringControl 310A with 3 analogue meters for up to 3 string
ams StringControl 410A with 4 analogue meters for up to 4 strings
ams StringControl 610A with 6 analogue meters for up to 6 strings
Technical Data:
Max. number of strings
max. 6 pcs. acc. to type
Max. input current per string
10 A
Terminals
up to 6 pcs. acc. to type
Max. voltage
900 V
Housing
Protection level
- Housing
IP65
- Terminals
IP52
Dimensions
320 x 260 x 129 mm (W x H x D)
Material
Polycarbonate
Impact resistance
IK 08/07
UV resistance
UL 508
Flammablility rating
UL 746C 5V
Operating temperature
-20°C / +40°C
Analogue Meter
Range
0 - 10 A DC
---
These measuring meters are designed to operate as edgewise meters in a railway environment. Available sizes are 96 x 48 mm or square-shaped in 72 x 72, 96 x 96 and 144 x 144 mm.
Square meters are available with a 90° or 240° movement.



235x150 mm


e.g. 72x72 mm


e.g. 72x72 mm



215x110 mm

The EB 220 is an analogue meter with a high-quality moving coil movement.
The big open 215 x 110 mm display ensures good readability even from a distance.
This meter is frequently used in teaching.


e.g. 72x72 mm
SQ 72 DS load meter with built-in LED



e.g. 72x72x mm

Phase sequence indicators are used to set or monitor the rotary field direction or phase sequence in three-phase current supply networks.



e.g. 72x72 mm

Operating hours counters for AC and DC currents in the sizes 48 x 48, 72 x 72 and 96 x 96 mm.
Counter range up to 99 999.99 hours.
Additional information:

info@ams-messtechnik.de